Events
[reda_header style="reda-header-top" add_underline="" add_icon="" icon_color="#ac8b51″]
La Reserve de la Mala
[/reda_header][reda_header add_underline="" add_icon="" icon_color="#ac8b51″]
Events
[/reda_header][reda_header add_icon="" icon_color="#ac8b51″ css=".vc_custom_1552475680660{margin-left: 60px !important;padding-top: 5px !important;}"]
& Privatization
[/reda_header]
[reda_header add_underline="" add_icon="" icon_color="#ac8b51″ css=".vc_custom_1551964457570{margin-top: -30px !important;margin-left: 60px !important;}"][/reda_header]
[reda_header style="reda-header-top" add_underline="" add_icon="" icon_color="#ac8b51″]Prestigious[/reda_header][reda_header add_underline=""]
Services
[/reda_header]
The Mala Reserve organizes all seasons various events
on its beautiful beach and many services are also at your
disposition. Enjoy a modern and tasty cuisine, enjoy a
upscale aesthetic corner and enjoy water activities.
Routes: Boat-service & mini van
Services: Nautical activities, massage, shop, DJ …
The Mala Reserve is divided into 4 distinct spaces:
Pontoon: 110 people seated
Restaurant: 140 people
Champagne bar: 70 people
Shop & wellness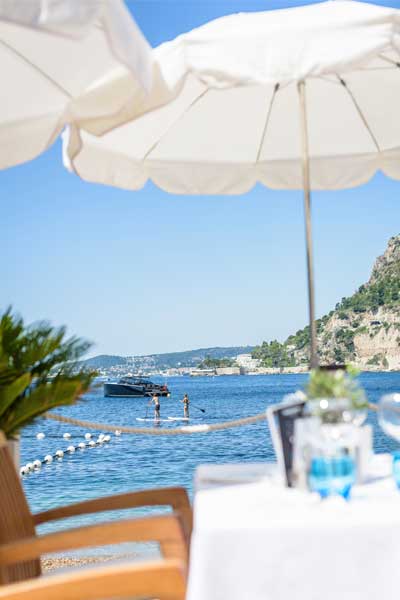 La Reserve de la Mala is a dream spot for organizing private or corporate events in one of the few oases of the Riviera still preserved from mass tourism.
[reda_cta image="1836″ img_pos="cta-right-img" cta_btn="" background_color="#ffffff" accent_color="#00b2e2″]
Festive Aperitifs
Every weekend from 18h, come and enjoy the sweetness of the evenings of the French Riviera. The cocktail and music program with a breathtaking panorama.[/reda_cta]
[reda_cta image="1838″ img_pos="cta-left-img" cta_btn="" background_color="#ffffff"]
Lunches & dinners
Our restaurant welcomes you for lunch and dinner to help you discover the Mediterranean cuisine of the French Riviera.[/reda_cta]
[reda_cta image="1506″ img_pos="cta-right-img" cta_btn="" background_color="#ffffff"]
Corporate
Are you looking for a place for a corporate event or just to organize a meeting or a business meeting?
La Reserve de la Mala offers you the solution[/reda_cta]
[reda_cta image="1507″ img_pos="cta-left-img" cta_btn="" background_color="#ffffff"]
Beach Party
Come enjoy our Beach Party Day. In the cocktail and music program under the sparkling sun of the Riviera.[/reda_cta]
[reda_cta image="1501″ img_pos="cta-right-img" cta_btn="" background_color="#ffffff"]
Wedding
La Reserve de la Mala is a splendid place, ideal to organize a wedding and to delight your guests by offering them a frame and a kitchen of high quality.[/reda_cta]
[reda_header underline_width="underline-100″]
EVENTS 2019
[/reda_header]
[reda_cta image="1715″ img_pos="cta-left-img" cta_btn="" background_color="#ffffff"]
Monaco Grand Prix
La Réserve de la Mala invites you to enjoy our facilities during the Monaco Grand Prix 2019. The program Childay with our DJ.[/reda_cta]